Testimonials
Your Experiences: In the Raw

At Raw Canvas our clients are our family, and we love to share your journey!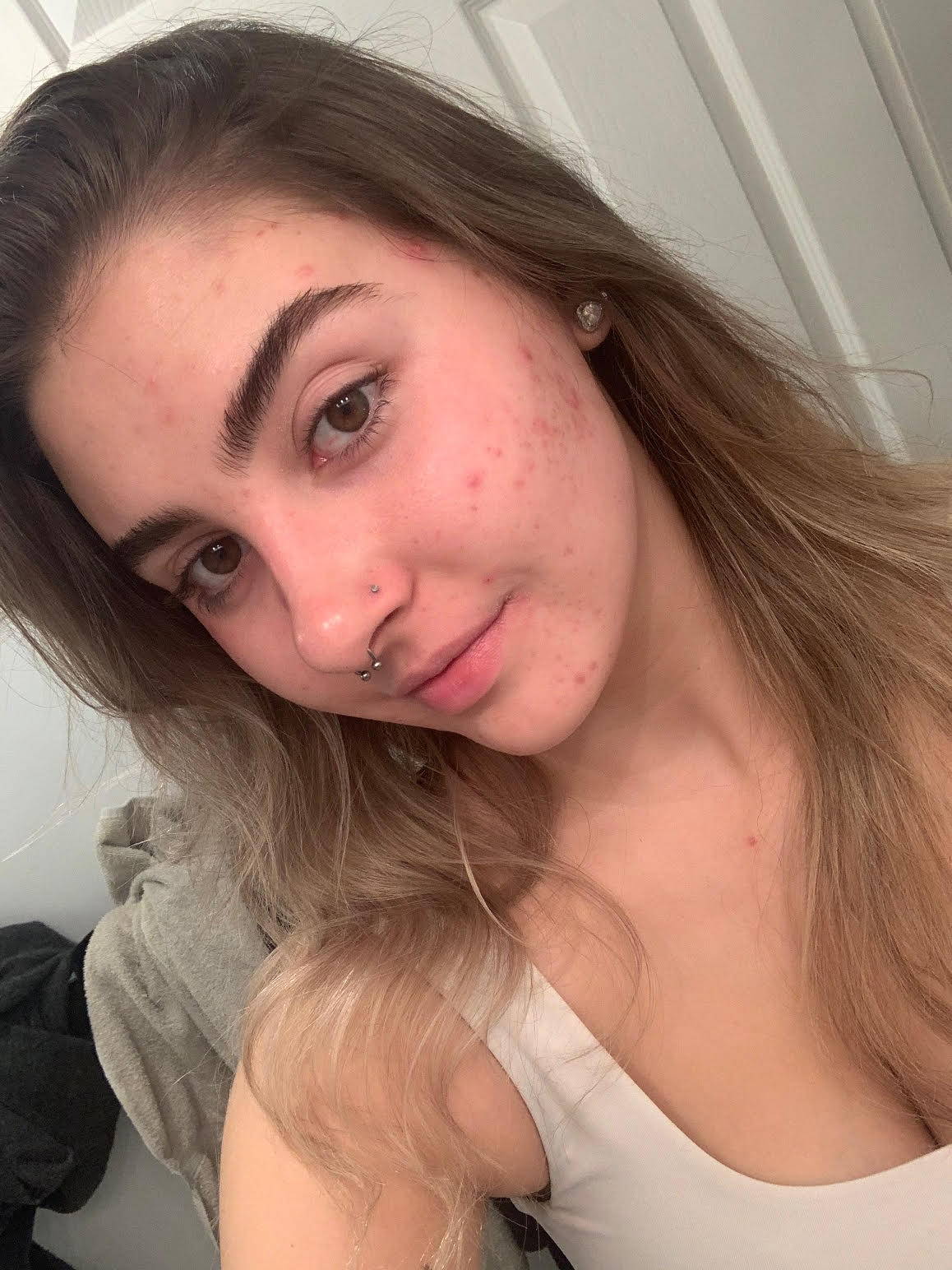 I've tried everything you can think of under the sun to get rid of acne and acne scarring I came across raw canvas on instagram and immediately booked a consult- desperate to make my skin better and bring back my confidence! Since trusting Amanda with my skin I have had very minimal breakouts and have felt confident enough to leave the house without foundation at all. I have had so many compliments on my skin since going to her.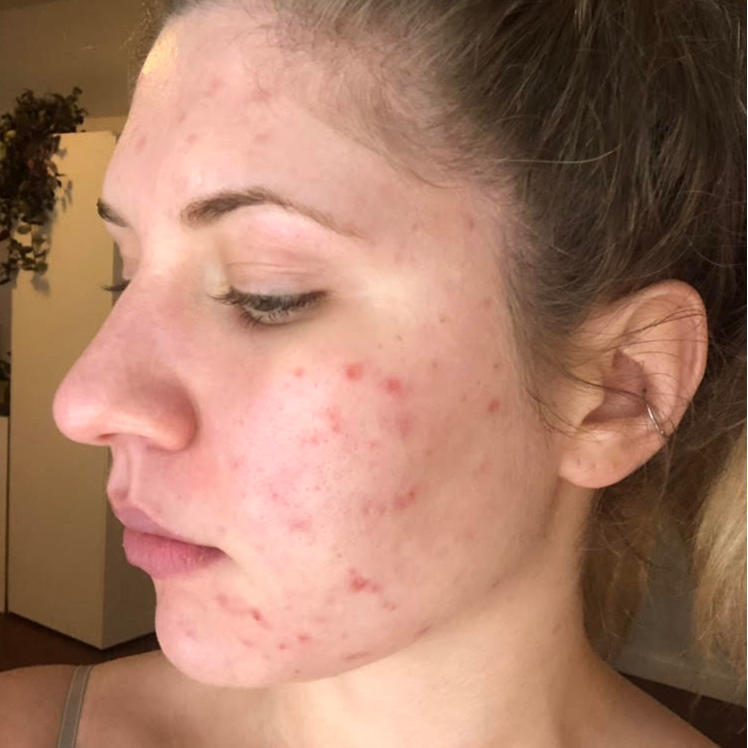 Hi, my name is Emma and I m 22 years old and live in Vancouver.
I've only started seeing Amanda in April. For a little background of my acne journey - I've had all stages of acne since I was about 13/14 years old. I was at a point where I had accepted I was just going to have to live with it. I've tried all the topical treatments, diet changes and seen other aestheticians.
But wow, I never thought in only two months of seeing Amanda would I see my skin transform. My before pictures were taken April 11th and my after June 17th. I have no active acne at the moment though I do still get some popping out here and there. But I've notice they heal so much quicker than before. With the skin care line Amanda has chosen for me and getting laser genesis my skin is so much softer and really calmed my acne. Amanda and I are now working on taking care of the scarring and pigment.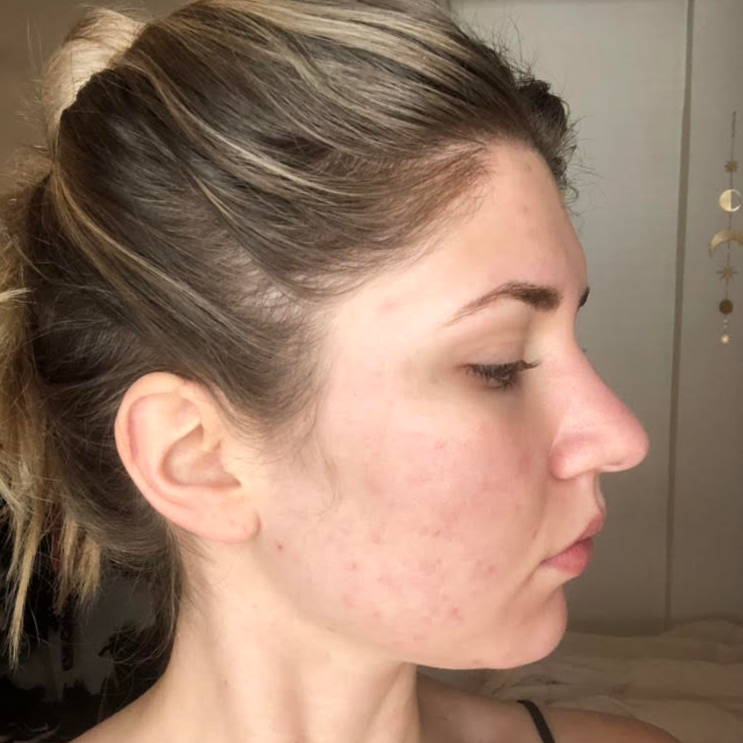 "Amanda is magic! She instilled total confidence in me since my initial consultation and treatments (acne laser and chemical peel) four weeks ago. Trusting Amanda with a specific regimen was my best decision. Inflammation was reduced close to 100% after my first treatment; after my second set of treatments, breakouts are minimal and I feel more confident than I ever have in my fresh face (I left my house without wearing tinted moisturizer/ foundation for the time in years). I am so thankful for her expertise and passion, and recommend her to everyone with skin needs! "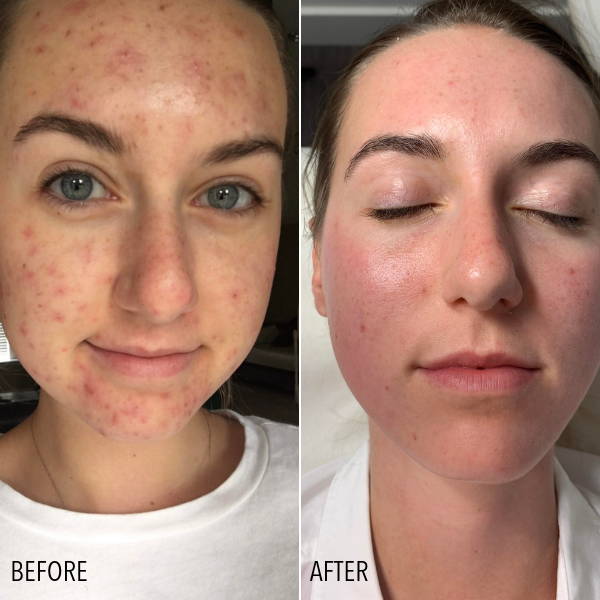 When I started to see Amanda for my skin I didn't believe that I would ever reach the glowing canvas that she promised me. And boy am I thankful I was so wrong! It's been a process, but all good things are. The at home skin care backed by monthly laser genesis appointments and positive lifestyle changes has transformed my skin in a way that I couldn't dream of. My skin has never been healthier or happier and I in turn feel like a new woman.
I had lost hope in ever fixing my acne. After putting what seemed like never-ending time and money towards treatments with no results, I had accepted that this just was my skin now. After my first consult with Amanda I felt hopeful again for the first time, and within only a few weeks of my first treatment started to see my acne finally healing, and my skin better than art had been in years!
I went to Raw Canvas after having my baby and struggling with Melasma. I was also on maternity leave and had to be mindful of a budget. Amanda was so respectful of my budget and helped me choose treatments and products that would make the biggest difference. After 1 photo facial and beginning IS clinical products I am feeling so happy with my skin and see light at the end of he tunnel with the pigmentation on my face. Other places I have been have always wanted me to purchase multiple treatments up front but Amanda encouraged me to take it 1 treatment at a time until I achieved the results I was looking for. Money very well spent!
I came to see Amanda after being referred to her by a friend. My skin has been worse as an adult than it ever was as a teenager. She has been able to give it life again. She has worked wonders for it. She takes the time to listen to your concerns and recommends a treatment plan. And she is an pverall amazing person!!
Amanda has helped me so much, I can't even put it into words. After a failed course of Accutane, my adult acne was taking over my face. I decided to reach out to her, and book a consult. Within the first session and my new products I had already started to notice a difference. She has provided me with endless amounts of knowledge, and the tools to combat my acne first hand. I will always trust Amanda with any skin issue, and she is the first person I turn to.
My skin looks amazing after Amanda recommended what products to use....along with laser genesis! So happy I found her and Raw Camvas!!!
I visited Amanda's sweet little Raw Canvas Skin Bar for a dermaplaning for my birthday. I had never had this type of treatment before and Amanda made me feel very relaxed and comfortable. She was also very knowledgeable on what type of products to use on my skin after the treatment to keep it looking plump and healthy. I am heading back for my second dermaplaning this month and am looking forward to the results it will give me.
Hi! My name is Rachel and I'm 21 years old. My biggest skin issue has always been acne. I managed to make it through my adolescence acne free and just in the past 3 years after living abroad, came home and my acne hit.

My acne has been mostly cystic in my t-zone, ebbing and flowing with hormonal fluctuations, diet, sleep and stress levels (as a college student!). Believe me when I tell you that throughout the past three years I have tried every topical ointment, lotion, acid and treatment for my acne. I even took antibiotics, sought out physical treatment and other oral medications. Nothing, absolutely nothing has worked for me.

I came across Amanda with Raw Canvas on Instagram just this year and although hesitant at first because I've thrown so much money at my acne to no avail, I booked an appointment for a consultation. Aside from being so down to earth and just lovely to be around with such a positive spirit, my experience with Amanda has blown me away. From doctors telling me to take an 'Advil' and asking me if I wash my face to acne clinic practitioners siphoning my bank account and making it all worse, it's nice to know that with Amanda I finally have someone on my side who genuinely wants to see my skin get better.

It's definitely a journey and I'm no where near the end of it but I do have a renewed sense of hope that one day (soon) I'll have clear skin all thanks to Raw Canvas!
I was referred by a girlfriend (with glowing glass like skin!) to Amanda at Raw Canvas Skin Bar over a year ago. I was excited that she was in Langley and literally just a couple of blocks away from where I live.



I had just turned 40 and my skin was not at its best: I was unhappy about clarity, texture and hyperpigmentation.



Note, I've always been a skincare buff but was looking for better results for myself. I have always invested and wanted to have a great skin base.



Amanda was knowledgeable and responsive and never pushy. She got me on a regimen that showed results so quickly! I love the product regimen and the laser genesis treatments she got me onto. The regimen relies on truly quality skin care products and not cosmetic skin care. And I love the fact I get top notch recommendations right here in Langley.



Amanda is truly a game changer for your skin. Just look at all the before and afters on her Instagram!! Amazing work! When you look good, you feel good- it's life changing!
As someone who has suffered with rosacea throughout my life I was beyond excited to have someone recommend Raw Canvas and the laser genesis treatment. Amanda took the time to assess my needs and explain each part of the treatment for me. I really appreciated that and after my first session I was feeling informed and motivated for the changes that will come. I felt like I was in caring/expert hands and it's clear she truly cares about her clients. Excited for my next session with Amanda!
I have a number of skin issued, including rosacea, hyper pigmentation, uneven skin tone and a past of cystic acne that has left me with some scarring. I have worked with a cosmetic dermatologist, but hadn't had much success in improving the quality of my skin. I started seeing Amanda for dermaplaning, and she advised me to start a regimen of ZO skin care. After seeing the results, I'm hooked! My daily skin care, as well as laser genesis treatments has not only improved my skin immensely, but has increased my confidence! Amanda is so knowledgeable and dedicated to her clients, and gives such honest advice. I am able to be makeup free now, and my skin gets better every time I see her! I cannot thank her enough for her everything she's done for me! Thank you, thank you, thank you!
I've always had pretty good skin (or so I thought) until I started going to Raw Canvas for treatments to shrink pores and even my skin tone. As soon as I walked into the studio, I knew I was in good hands. Amanda totally takes care of her clients and makes you feel comfortable right away. She is full of tips and tricks, andante very fast, I became educated by her about proper skincare regimens. Now, I REALLY have good skin! I cannot tell you how amazing my skin feels in between visits because of the new skincare line she got me on. The kicker is, Amanda has the most beautiful skin and she is so knowledgeable about skincare and beauty products on all different types of skin (my skin fluctuates throughout the seasons from combination to dry). I always feel excited about my visits to the studio because I know the care I receive is thorough, top notch, and genuine. My skin has never felt better and it has given my new confidence to wear a lot less makeup. I have received many compliments about my canvas and I always send people to see Amanda (even though I selfishly want to keep her to myself). There is no going back after your first visit to Raw Canvas Skin Bar, Amanda is the best of the best.
I first met Amanda after deciding to give Dermaplaning a try. I liked the treatment (and her) so much that I went back a second time and decided to also receive a consult on my skin. I've struggled with acne and redness for as long as I can remember and had given up hope that I could ever have clear skin. I left that day investing largely in Amanda, IS Clinical and Laser Genesis and could never look back. I finally get the raw canvas concept because I finally, confidently embrace my raw canvas. I have not reached for foundation or concealer since my journey with Amanda and my treatment regimen. I have remained diligent with my skin care routine because I have seen results, amazing, life changing results. I can't say enough good things about Amanda, Raw Canvas and IS Clinical products. They are life changing. Amanda is kind, genuine and caring and I always leave her and her space feeling more naturally beautiful than before.
I've been suffering from adult cystic acne for over two years before I met Amanda. I've gone to several other skin clinics- tried peels, facials and fractora. However, the results from these treatments were short lived and I felt as if I had to continue to do these treatments for life to keep the results. I work at a job where down time isn't really realistic so it was very disheartening (and sad for my wallet).

I continued to suffer from severe hyperpigmentation from scarring post cystic acne and my high stress job doesn't help my hormones either - I'm sure.

Amanda is sweet. Easy to get along with and talk to and really cared for my canvas as if it was her own. She put me on a skin care regime right away and had a good plan to help me with my skin goals. No matter how I'm feeling (how my skin is feeling), she makes me feel empowered and beautiful as soon as I walk in to see her and leave.

Excited that I have found someone who I can be accountable to with my skin care regime and needs and thankful for her heart in everything she does for others! I always walk out of her space feeling confident and cared for!

Thanks for treating my canvas Amanda !
---
Submit your story to be featured!

To submit photos please email us at hello@rawcanvasskinbar.com

Thanks!
This field is required
This field is required
This field is required